Why should I buy a stair climber?
Powered stairclimbers can save countless labour hours by enabling one person to conduct what could otherwise be a 3-4 person lifting job. Not only does this save time, but it's also a much safer option, and reduces the physical stress on the persons. From a Health and safety standpoint, it is the way forward.
There are two prices for some stair climbers on your website, what does this mean?
We offer most of our stairclimbers for outright purchase and for long term hire. the "£30.00pw" price is often the cheapest weekly hire price.
How quickly can they be delivered?
Our short-term hire stairclimbers are available for same-day collection, or next day delivery. Long term hire and outright purchase delivery times will vary between models. But a delivery estimate can be seen on each items description.
Can I use a stair climber on carpeted stairs?
Yes, extra care may have to be taken to avoid damaging carpets when moving specifically heavier loads, a popular tactic is to place boards on each step to give a sturdy base for the machine to grip onto.
Do you offer Stair climber training?
Do stair climber lower items down the stairs as well?
Yes, Stair climbers will power loads up stairs as well as slowly lower heavy loads down stairs. some stair climbers are specifically designed to only lower items down stairs via a tracked braking mechanism rather than a motor.
How do you load items onto the stair climber?
Many stair climbers are loaded the same way you would load a sack barrow, by pushing the toe plate under the load. Tracked stair climbers for heavier loads can be loaded differently, sometimes using ramps.
How do I recharge the battery?
The batteries can be charged via the charger supplied with the machine, these will plug directly into a standard UK mains socket. 12V in transit chargers are available for some stair climber models.
How much do Powered stair climbers weigh?
Each model of stair climber has a different weight, some are light and able to be carried by hand, others are very heavy and may need equipment to be manoeuvred. The weight of each stair climber is listed in the specifications for each product.
Can I fit the stair climber in my car?
Most stair climbers will fit into medium to larger cars, however, some tracked stair climbers and larger models will need more space and will be best transported in a larger vehicle.
I already have a stair climber and want to buy an attachment, are they easy to retrofit?
Yes, It depends on your specific model of stair climber but most attachments are easy to retrofit, such as larger toe plates, additional batteries, in-car chargers, Bottle carriers, gas cylinder carriers & all-terrain wheels. Attachments can even be specially made for specific requirements. If you can't find what you need online, give us a call and we'll be happy to help and offer expert advice.
Do stair climbers require servicing or annual inspections?
Starclimbers do require a yearly LOLER inspection, we can conduct these inspections on site, or at one of our regional workshops.
Do stair climbers have wheel brakes?
Many stair climbers have automatic braking built-in to stop them from moving down steps unexpectedly. Some other machines have manual brakes available as an accessory.
How long will the battery last? Do I need a spare battery?
The duration of the battery charge will depend heavily on the Model of stair climber, the load and also the operator. It's advisable to always have a spare charged battery on hand to ensure that you do not get stuck halfway up a flight of stairs and run out of charge.
Do you need more than one person to use a stair climber?
One person can operate a stair climber safely. A risk assessment should be carried for each application, as it can be wise to have a second person as a guide in certain scenarios such as if visibility is poor and the surfaces are uneven.
Can I use the stair climber as a sack barrow?
Yes, Stairclimebrs are a multipurpose tool, and many can be used as a standard sack barrow or trolley as well.
My stair climber has a fault, who can I contact to get it repaired?
You can contact us, we are specialist in stairclimber repairs and have been servicing, fixing and maintaining stairclimbers for decades.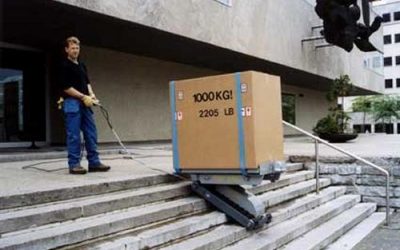 A Powered stair climbing trolley works via an electric motor which powers a mechanical push arm or a set of Rotating tracks, pushing both the Stair climber and load up the stairs. This can also be used in reverse to guide a heavy load down a set of stairs....
read more